Adrenal Support Product Buyer's Guide (updated January 2023)
Women Sense AdrenaSense Review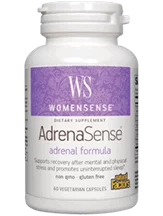 This review examines a product called Women Sense AdrenaSense by Natural Factors. The user-friendly website of this company is easy-to-follow and informative. Information is presented in a clear and understandable manner. We were interested in delving deeper to see how this adrenal health formula manufactured by Natural Factors compared with others on the market. Could it really live up to the claims of offering adequate stress management and uninterrupted sleep that is specifically tailored to women? We set off to find out.
This product contains 5 ingredients. They are all adaptogenic herbs which are known to help your body cope with stress. The ones found here are Rhodiola (Rhodiola rosea), Suma (Pfaffia paniculata), Eleuthero (Eleutherococcus senticosus), Schisandra (Schisandra chinensis) and Ashwagandha (Withania somnifera). The dosage is also quite impressive with a potent 900 mg daily serving. While adaptogens are a solid base for an adrenal health supplement, we were left scratching our heads as to why Natural Factors stopped there. Why not add more scientifically-proven ingredients to this formula?
What is confusing is that there is no specific ingredient here targeted towards women. What makes this the best product for women to handle stress and allow them to sleep uninterrupted through the night? We remain mystified.
We would have expected to see Vitamins B and C in this formula and were more than a bit disappointed to find them missing. B-complex vitamins are shown to help the body's response to stress. Vitamin C is essential for the production of cortisol and is therefore usually included in an adrenal support product.
This product is relatively cheap which makes sense when one considers there are only 5 ingredients found inside each capsule. What's interesting is that there are also 5 adaptogenic herbs in Adrenasyl, our editor's choice, and found in the same dose of 900 mg. This causes us to wonder why there aren't more ingredients found in this capsule but it does indeed explain the inexpensive price tag.
A technical complaint that we have is that it is not possible to purchase Women Sense AdrenaSense from the Natural Factors' website. Instead, you can find out where this product is available to be purchased in person. The issue we take with this is that there is no indication of a money-back guarantee. What happens when customers are unhappy with the result of this product? There is nowhere for them to turn. While this product is not very expensive, it is still money. It is up to each individual consumer to make the choice for themselves whether they want to take a chance on buying a product with no return policy as opposed to ordering a product from a supplement manufacturer that does offer a money-back guarantee.
Is Natural Factors Women Sense AdrenaSense Effective?
Because there is no money-back guarantee, we needed to check customer reviews to ascertain the chances of this product actually working. What we uncovered were a lot of mixed reviews. There were some consumers who experienced real satisfaction from this product. However, there were a plethora of negative reviews that left us with raised eyebrows. 
Some people found that this product worsened their adrenal fatigue symptoms. Others said that while they did sleep very well, their sleep was plagued with vivid and horrifying dreams. Waking up panicked and in a sweat made them stop taking this supplement, even if it did give them uninterrupted sleep.
Is Natural Factors Women Sense AdrenaSense Safe?
In terms of safety, the ingredients found in this product are all-natural and should not cause any detrimental effects.
As with any new supplement or diet introduced into your daily life, we always advise talking to your healthcare professional about possible contraindications of any pre-existing medical conditions or medications that you are taking. Supplements work differently for everyone and the effects vary between individuals so it is always a good idea to run any health changes with a professional.
Summary
At first glance, Women Sense AdrenaSense by Natural Factors appears to be a quality adrenal health product. There is a solid basis of 5 adaptogenic herbs that are Rhodiola (Rhodiola rosea), Suma (Pfaffia paniculata), Eleuthero (Eleutherococcus senticosus), Schisandra (Schisandra chinensis) and Ashwagandha (Withania somnifera). Additionally there is a dosage of about 900 mg which is potent as well as all-natural and safe. However, the formula ends there. Literally. There are no other active ingredients to be found in these capsules.
While we are happy to see that the capsules themselves are made of vegetable cellulose and that this is a gluten-free, non-GMO and vegan product, that does not make up for the fact that this supplement does not contain vitamins and minerals that are essential for supporting adrenal health and managing stress levels in the body.
Another aspect that gave us pause was reading some reviews on third-party sites, such as Amazon. There are some positive reviews from consumers who liked this supplement but the negative reviews gave us pause. Many people found that this product knocked them out just like a sleeping pill. If a sleeping pill is what you are looking for, perhaps this might be an effective product for you.
The final clincher for us and the reason this product is lower down on our list, is that there is no money-back guarantee available from the manufacturer should this product not work for you. When a manufacturer truly believes that their product will work, they offer a real money-back guarantee. Our other product reviewed, Adrenasyl, has one for 60 days with the option of returning open and empty bottles. For us, that says it all.
What You'll Discover:
✓
Which Adrenal Support Product is the BEST BUY and comes with a great GUARANTEE!
✓
Which formula and ingredients are the most EFFECTIVE and work the fastest?
✓
How NOT to get ripped off! BE AWARE of poor quality and cheap products.
The Top 6 Items to Consider:
Ingredients
Cost Per Serving
Product's Testing Results
Company's Reputation
Consumer Reviews
Return Policy & Satisfaction Guarantee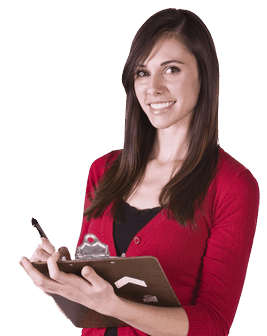 Sign Up For Our Newsletter!
We will send, straight to your inbox, the latest and most relevant information regarding adrenal health to keep you updated and informed.
Our promise: We will never share your contact details, unless you give us permission. And, we will only ever send you information that is helpful and significant.